YOUR BABY WILL HAVE THE BEST SLEEP USING THE  BABY HAMMOCK!
Give your baby and yourself assurance when your baby sleeps. The Hammock Womb creates 

the safest environment for your baby, outside of a parent's arms. 

The Baby Hammock simulates a mother's womb as it keeps your baby extremely comfortable and safe.  It attaches to any crib and helps reduces environmental risk factors associated with SIDS (Sudden Infant Death Syndrome).  This hammock promotes healthy baby development and takes away dangers to an infant.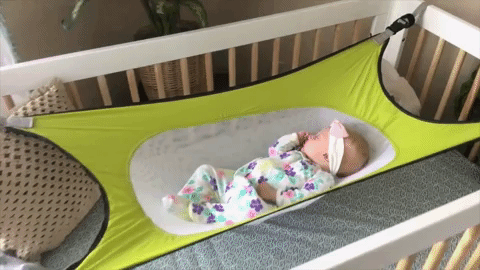 REDUCE ENVIRONMENTAL FACTORS OF SIDS: 

W

e have designed a natural, breathable, and flexible system to promote a healthy environment, regardless of a baby's movement or positioning
CREATES AN IDEAL MICROCLIMATE:

 S

oothes colicky babies better than bassinets and cradles. The breathable hammock helps maintain an even temperature while reducing the risk of SIDS.
Recreates a Mother's Womb
THIS ITEM IS NOT SOLD IN STORES, GET IT WHILE SUPPLIES LAST! 
UPDATE: Due to the huge increase in social media attention, we're running extremely low on these, so make sure to secure your order!
Disclaimer: Colors may be slightly different than shown in the images.

Weight Limit: Supports up to 50 lbs.

Age Limit: 0-12 months old
PACKAGE INCLUDED: